Table of contents
How can I import Zahedi dates from Iran?
Where to buy bulk Zahedi dates
What are the different types of Iranian export dates?
Zahedi dates Wholesale price in Iran 2022
Why Buy wholesale Zahedi dates from Eyjan company
Wholesale Zahedi dates  
Zahedi date is one of the dry date varieties in most regions of Iran, but in some regions, it is known as a semi-dry date.
Zahedi dates (dry and semi-dried Zahedi dates) can be considered the most consumed type of dates in Iran.
Zahedi dates are yellow to light brown in color, about 3.5 cm oval, and fleshy, and because of the lower humidity, they have a longer shelf life than other types of dates.
This Iranian ascetic date can be cultivated in most of the tropical cities of Iran such as Khuzestan, Fars, Bushehr and Kerman provinces and the cities of Firozabad, Lar, and Khoramshahr.
Dashtestan city is located in the south of the country, with its dry and hot weather and having about 16,250 hectares of date land, it ranks first in the production of dates and citrus fruits.
In other parts of Iran, Khuzestan province (Khorram Shahr, etc.) makes changes in the Zahedi date which is known as the Zohdi date.
Iranian Zahedi dates are usually harvested in the middle of September in different regions, but Wholesale Zahedi dates is available in the date market from October to March.
How can I import Zahedi dates from Iran?
Where to buy bulk Zahedi dates
Wholesale Zahedi dates in Iran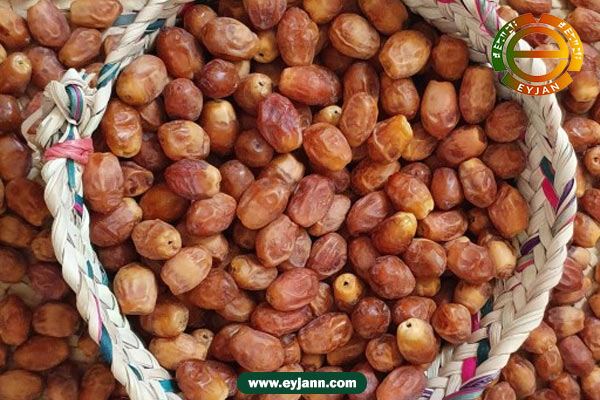 Zahedi is one of the varieties of dry dates with high production and export in Iran.
Date orchards are located in the southern regions of Iran and in Fars and Bushehr provinces. These areas are the most important export markets for Zahedi dates and major production and sales centers of Zahedi dates during harvest seasons. In the fall, the purchase of large Zahedi dates for export reaches its peak in these areas.
Which company is the best Zahedi dates supplier in Iran?
If you are looking for Zahedi dates producer company that or Zahedi dates supplier, Eyjan is one of the most reliable companies in this field, which procures Zahedi dates directly from gardeners and provides the possibility of online and in-person and online purchases.
Zahedi dates exporter in Iran
Eyjan company exports wholesale Zahedi dates all over the world, including Middle Eastern countries such as the UAE, Iraq, India, Pakistan, Europe, etc.
To import wholesale Zahedi dates from Iran and more information, you can contact us at Eyjan Company.
info@saffronbest.com
Mobile/ What's App /We chat +989122386171
What are the different types of Iranian export dates?
Iran is known as one of the best date exporters in the world. Iranian dates are available at Eyjan Company including Mazafati dates, Rabbi dates, Zahedi dates, Piarom dates, Kabkab dates, Lulu dates, Chopped dates, Kali dates, Sayer dates.
To buy wholesale Zahedi dates from Iran and more information, you can contact us at Eyjan Company.
info@saffronbest.com
Mobile/ What's App /We chat +989122386171
Zahedi dates characteristics
 Zahedi Iranian date is a thick, small , oval date about 3.5 cm in size, and they are hard, shiny, and dried.
sometimes their skin sticks to the flesh, and sometimes, depending on the humidity and temperature of the production area, the skin of the fruit separates from the fleshy part.
Depending on their ripeness, their color varies from yellow to light brown, and their sweetness is significantly less than other types of dates available.
Zahedi Date is considered dry fruit. Its Moisture is under %14 and less than other kinds of Date fruits.
 Zahedi Dates 2 types are wet Zahedi dates & dry Zahedi dates.
What are the Zahedi dates benefits?

Dates contain a lot of folates, which are useful and necessary for blood circulation.
Date fruit causes weight gain due to its high sugar content, which mostly includes simple sugars.
The latest research presented has shown that dates include all the benefits of vegetables and fruits due to their classification in the fruit group. In addition, its low-fat content makes it a nutritious low-fat food!
Dates can even help prevent various illnesses and diseases.
They can help treat indigestion, prevent anemia, and improve memory and vision.
Zahedi dates nutrition
100 grams of dry dates have about 300 calories and this amount consists of about 70% carbohydrates, 2.2% protein and 0.6% fat, while fresh dates have about 160 calories.
Zahedi date has a high nutritional value due to its natural nutrients.
This date is rich in nutrients and minerals (potassium, magnesium, protein, etc.).
Vitamins (such as vitamin A, vitamin B complex, vitamin C, etc.) and sugars (such as fructose, etc.).
Wholesale Zahedi Date Packing
500 Gr, 1000 Gr
5k, 10 k (Carton)
As per the customer's request
Wholesale Zahedi Date storage conditions
Zahedi Date is a dried Date fruit that can be kept at a normal temperature in a cool, dry, clean, and well-ventilated place for around 18 months to 2 years.
Zahedi dates are highly durable and the fact that they do not require refrigeration makes shipping them easy.
Zahedi dates Wholesale price in Iran 2022

The wholesale price of Zahedi dates is determined based on their quality, and factors such as the freshness of the color, humidity, size and shape of the dates, the amount of flesh, the location, and harvesting conditions are effective in determining the wholesale price of Zahedi dates.
Zahedi date in Iran is one of the most popular and widely consumed types of dates, which has attracted many buyers in the world every year due to its special appearance and taste and long shelf life.
In addition to the quality factors, buying directly from the producer and eliminating middlemen is also effective in the wholesale price of Zahedi dates.
Also, the size of the order affects the final price.
Zahedi date harvest season is early September, which sometimes extends to the end of September.
Due to the large supply of dates by gardeners in late summer, the price of wholesale Zahedi dates is lower during this short period of time, and buyers from all over the world use this opportunity to buy wholesale Zahedi dates.
For wholesale Zahedi dates price information, you can contact us at Eyjan Company.
info@saffronbest.com
Mobile/ What's App /We chat +989122386171
Why Buy wholesale Zahedi dates from Eyjan company
Wholesale Zahedi dates producer and supplier
Direct Date supply from the farm to the market
Supply all types of fresh dates and dry dates
Providing new packaging designs for bulk and the retail orders
Possibility to supply dates with your custom packaging
Supply Dates in the highest qualities at production price
Having the standards of the Ministry of Health
Having all national and international licenses and halal mark
Packaging in compliance with all export standards
Product quality assurance
The ability to send unlimited volume orders
after-sales support services and long-term cooperation
To buy wholesale Zahedi dates from Iran and more information, you can contact us at Eyjan Company.
info@saffronbest.com
Mobile/ What's App /We chat +989122386171