Table of contents
Where to buy Rabbi dates
Rabbi dates exporter
Wholesale Rabbi dates supplier
Rabbi dates wholesale price
Why Buy  wholesale Rabbi dates from Eyjan company
Rabbi dates
Rabbi dates are known as the earliest date in Iran and the world.
Rabbi dates or Pakistani dates are also known as one of the most important types of export dates along with Mazafati dates, Shahani, Piaram dates, Kabkab dates, etc. dates in Iran.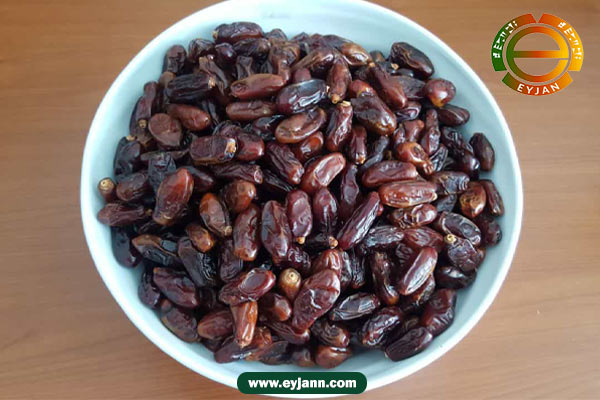 Rabi dates belong to Sistan and Baluchestan provinces and are cultivated in the cities of this province, including Zabol, Saravan, Chabahar, Khash, Delgan, Hoodian, and Iranshahr.
Thus the World Intellectual Property Organization (WIPO) has registered this figure with the name of this province.
It is also cultivated in other southern regions of Iran like Kerman. The best type of this type of date is produced in Zabol, Hoodian, and Iranshahr.
Pakistani dates
The main reason why Rabi dates are known as Pakistani dates is that Rabi dates, known as Pakistani dates, in world markets are because Pakistanis play an important role in the market and buying and selling of these dates.
Rabbi dates Specifications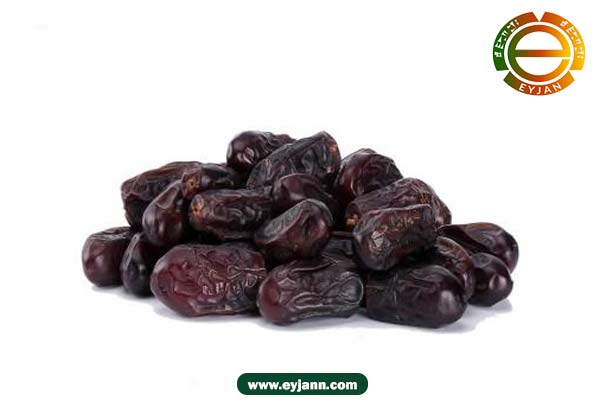 Rabi dates are relatively large and fleshy dates and their kernel is smaller than their meat.
Rabi dates have a long (about 3-5 cm) and elongated appearance. Due to the adhesion of the shell to the core, and its good texture; It's easy to wash and maintain them.
The color of its Rutab date is green and Khark's Rabbi dates are red.
When ripe, Rabbi date is completely black and sometimes has a reddish-black or dark brown color, and their skin is shiny, clear, and thin.
The taste of Pakistani dates is very good it has less sweetness than Mazafati dates and also it has a lot of juice.
Wholesale Rabbi dates in Iran
Rabbi dates have a good export market and have many fans among domestic and foreign customers. To the extent that its customers usually order the date product before harvest time that is in mid-September.
Eyjan Company is one of the largest exporters of Rabbi dates in Iran, which exports Iranian Rabbi dates to countries in the Middle East, European countries, East Asia, etc.
Where to buy Rabbi dates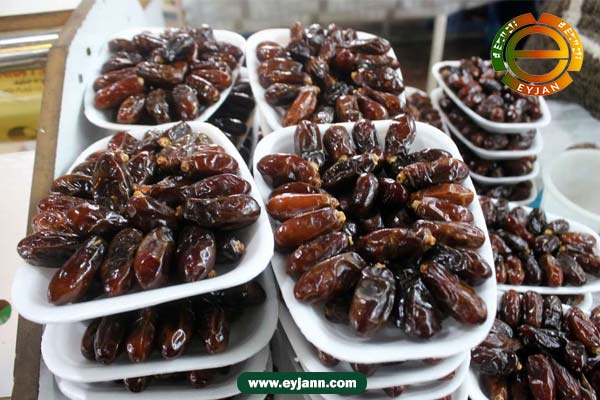 Eyjan Company is one of the main Iranian Rabbi date exporters that allows importers from all over the world to buy wholesale Rabbi Dates directly from the producer with the most reasonable price and the highest quality.
The company offers rabbi dates in standard and uniform packaging and is ideal for export, with weight and packaging according to customer requirements.
The Rabbi date supplies by Eyjan Company are 100% Natural Fresh & Soft Dates and has no sugar, Artificial Colors, Flavors, or Preserveor Sulfite Added.
To buy wholesale Rabbi dates from Iran and more information, you can contact us at Eyjan Company.
info@saffronbest.com
Mobile/ What's App /We chat +989122386171
Wholesale Rabbi dates supplier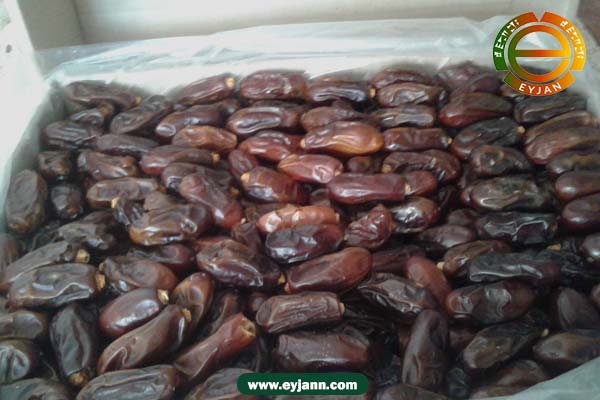 Iran is one of the largest date suppliers.
Rabbi dates in the Iranian date market have many fans in Central Asia, India, and Pakistan
Due to Rabbi dates' semi-dry nature and easier storage and transport conditions, Rabi dates are one of the most popular types of dates for dates wholesalers and date importers.
Eyjan company is one of the largest Rabbi date suppliers in Iran that cooperates with Rabbi date importers from all over the world all year the seasons.
Rabbi dates price
Rabbi dates wholesale price
Many factors such as currency rate, climate condition, date production and distribution amount, etc affect Rabbi date price.
On the other hand, this date is very popular in Iran and the world, and in addition to being consumed as a rabbi date fruit, Rabbi dates are also used in the industries of chocolate, cake, dessert, and date juice which increase this types of date demand and Rabbi date wholesale price.
To buy wholesale Rabbi dates from Iran and more information, you can contact us at Eyjan Company.
info@saffronbest.com
Mobile/ What's App /We chat +989122386171
What are the different types of Iranian export dates?
Iran is known as one of the best date exporters in the world. Iranian dates are available at Eyjan Company including Mazafati dates, Rabbi dates, Zahedi dates, Piarom dates, Kabkab dates, Lulu dates, Chopped dates, Kali dates, Sayer dates.
Rabbi dates benefits
The ingredients of this date are lactose and fructose, which are rich in natural sugar, and its use not only is not harmful to diabetics, but this fruit with less sugar and energy will be a good substitute for sugar or sugar.
By consuming 100 grams of dates, which is equal to 4 to 5 dates a day, you will prevent your blood sugar from falling and you will benefit from the properties that we mention below.
Rabi dates are also rich in fiber, which regulates digestion and is a good laxative to limit the substances that cause constipation. The potassium in date palm is also useful for treating diarrhea.
Date dates contain significant amounts of antioxidants to prevent atherosclerosis, which hardens blood vessels and clots the blood. Date dates are great for regulating cholesterol and stress.
Rabi dates are rich in minerals such as magnesium, selenium, potassium, manganese, and calcium, which are very beneficial for bone health.
Rabi dates are very useful for sexual health and the treatment of male infertility.
It is a rich source of iron that is recommended for hair health, anemia, and skin health.
The presence of high amounts of iron in dates makes this type of dates different from other dates, including Pyaram dates, etc.
The manganese in this date is soothing to the nerves, and the potassium in it reduces muscle pain.
How many calories do Rabbi dates have?

There is about 300 kcal energy per 100g of this product.
Rabbi dates storage, packing, and export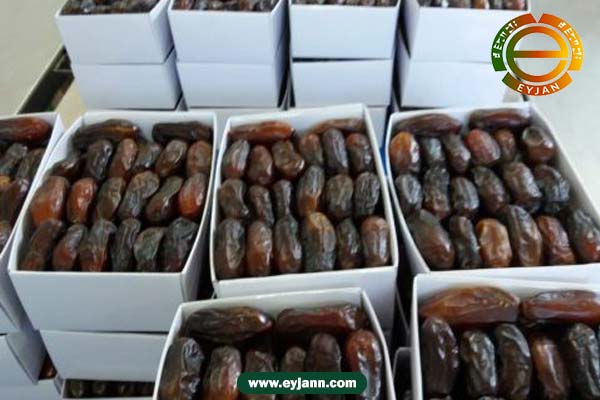 Rabbi dates are usually harvested in mid-September. Which sometimes lasts until early October.
The moisture content of Rabi dates is about 16%, and Rabbi dates are generally considered to be semi-dry dates.
As a result, Rabbi dates have easy storage conditions and do not need a refrigerator to store. A cool, dry environment should be considered for storing Rabbi dates, but it's better not to store them for a long time like other types of dates.
Packaging processes of Iranian Rabbi date at Eyjan company are done by modern technologies and equipped machines, by experienced experts, and observing health tips which are kept in equipped cold storages.
Iranian Rabbi dates shelf life is 12 to 18 months at room temperature.
Why Buy  wholesale Rabbi dates from Eyjan company
Wholesale Rabbi dates producer and supplier
Direct Date supply from the farm to the market
Supply all types of fresh dates and dry dates
Providing new packaging designs for bulk and the retail orders
Possibility to supply dates with your custom packaging
Supply Dates in the highest qualities at production price
Having the standards of the Ministry of Health
Having all national and international licenses and halal mark
Packaging in compliance with all export standards
Product quality assurance
The ability to send unlimited volume orders
after-sales support services and long-term cooperation
To buy wholesale Rabbi dates from Iran and more information, you can contact us at Eyjan Company.
info@saffronbest.com
Mobile/ What's App /We chat +989122386171