Bulk saffron saffron bulk from Iran
Eyjan saffron company is proud to introduce itself as a reputable company to produce 80 tons of Pure natural saffron each year. our company's proprietor is honesty and commitment, especially to its business partners around the world. it's our first priority to help and support our business partners for better growth by providing the best quality, Pure natural saffron.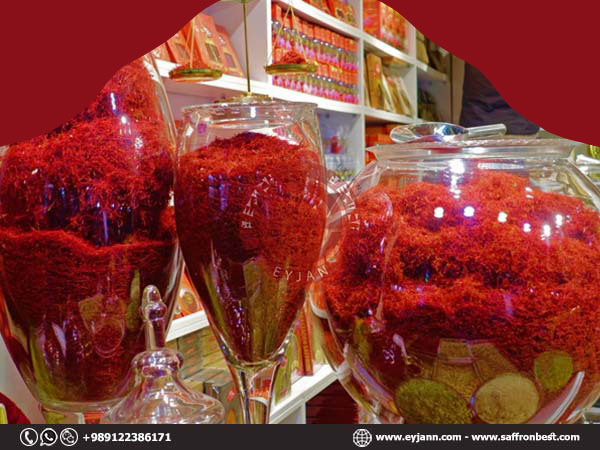 Do not hesitate to start  business with us , here is best place to start with.
If you are looking for a first hand company to deal with honesty and trust  having best quality saffron very pure natural  please send us email to : info@saffronbest.com 
Mobile/WhatsApp/We chat +989122386171
Buying bulk saffron from Iran will be beneficial if you are careful and buy from a reputable company. If you are going to buy bulk saffron from Iran and you are looking for a valid company, you are in the right place. You can buy bulk saffron directly and without dealers, from the saffron producer in the highest quality and the fairest price,  in a variety of weights, based on laboratory standards from Eyjan saffron company.
Since Iran is the main supplier of saffron in the world and most of the saffron in the world market belongs to Iran, it is advisable to buy saffron from Iran and farmers directly instead of intermediaries.
Due to the fact that Iran is the biggest saffron producer, most of the saffron wholesalers buy bulk saffron from Iran and sell it to retailers. In this case, more money will have to be paid because of the middlemen, and it is unclear how long the middlemen hold the Iranian saffron and the saffron becomes obsolete.  So it is best to buy saffron from Iran and the farmer directly.
If you are going to buy bulk saffron from Iran and looking for saffron producer or farmer, count on us.
Why Eyjan Saffron Company? 
-We ourselves are saffron producers and buying saffron from us is buying from a farmer.  So the price of our saffron is more reasonable than other companies due to its high quality.
-we are one of the few companies that produce pure natural saffron.
-The saffron that is sold is all fresh and every year's new product and has a production date and expiration.
Here is some information that will help you to choose your saffron and purchase easier:
Varieties of saffron are produced by Eyjan Company which include:
_Super Negin (cope) Saffron and other types of high-quality         Negin saffron
_Sargol (cut) saffron,
_Pushal (thread) saffron
_Dasteh (Bunch) saffron.
Price: Customers' first question is about the price of saffron.  It should be noted that the quality of saffron determines its price. So we'd better not to judge the price of saffron before considering its quality.
Eyjan saffron price is so fair due to its quality. If you want to buy bulk saffron from Iran at the best price contact us for the exact price.
Bulk saffron is priced lower than retail saffron and is more economical but retail boxes are more beneficial for those who buy saffron from Iran and supply it to the market.
Packing: bulk saffron packing in different containers is possible by the customer's order.  Packing is possible in metal containers or plastic bags in different weights. Nowadays the bulk saffron packages are updated and are as beautiful as retail boxes. Eyjan saffron also uses charming and luxury boxes to pack bulk saffron.
The minimum order quantity should be one kilogram.
The time it takes to get your order is 15_20 working days for bulk saffron.
Products are all pure, organic and high-quality.
Transportation: Products are sent by airplane from Tehran international airport and by Air-Cargo.
To give you an idea about the costs please mention it that there are fix prices for 200 grams to 10-kilo bulk Iran's customs formalities like 200 to 250 Canadian dollars and depend on the destination and how far is it the carriage varies and should be asked from the cargo airliners.
What is pure saffron?
The saffron you buy should be fresh, sweet-smelling, no other additives include other herbs or other low-quality saffron shouldn't be mixed with saffron.
Unfortunately, some of the profiteers buy the bulk saffron from Iran, and for the most benefit, paint the corn tassel or saffron roots and mix them with high-quality Iranian saffron and sell it as pure saffron, or sell saffron stained with fat, water, honey to Increase its weight.
Let's be more cautious and not be deceived.
For buying bulk saffron from Iran you can Buy and Order us with Email and What's App, by phone and in person and have your ordered saffron as soon as possible worldwide.
which country has the best saffron in the world